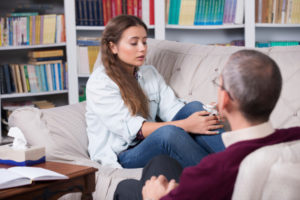 Talk therapy and lower doses of antipsychotic medications may be more effective at treating schizophrenia than the traditional approach of high-dose antipsychotics and minimal therapy, according to a seven-year National Institute of Mental Health study.
Schizophrenia affects about 2 million American adults. Symptoms vary, but schizophrenia generally produces hallucinations and delusions. Left untreated, it can interfere with a person's ability to work, sustain relationships, or provide self-care.
The antipsychotic drugs traditionally used to treat schizophrenia can produce negative side effects, such as muscle spasms, changes in libido, blurred vision, and weight gain. As a result, noncompliance is high. One 2012 study found more than 70% of people with schizophrenia discontinue antipsychotics shortly after starting them.
New Approach Could Revolutionize Treatment
talk therapy
. Looking at people with schizophrenia in these states, researchers were able to assess the effectiveness of various approaches to schizophrenia.
Researchers looked at people seeking assistance in the two years following a diagnosis. Providers at the facilities where these participants sought care did not only offer medication. They also provided therapy, assistance with daily decision-making, education about schizophrenia, and other services designed to help them better understand and control their condition. Doctors also significantly reduced the antipsychotic dosages participants received—cutting the recommended dose in half in many cases.
Participants in the new programs that emphasized therapy and a holistic treatment approach had better treatment outcomes during the two years after their diagnoses than participants who only received antipsychotic medications.
The study is the first to test such a program in the United States. It could ultimately revolutionize schizophrenia treatment.
References:
Antipsychotic medications. (n.d.). Retrieved from http://www.medicinenet.com/script/main/art.asp?articlekey=26299
Carey, B. (2015, October 20). Talk therapy found to ease schizophrenia. Retrieved from http://www.nytimes.com/2015/10/20/health/talk-therapy-found-to-ease-schizophrenia.html?_r=0
Melville, N. A. (2012, November 10). Noncompliance with schizophrenia therapy usually persists. Retrieved from http://www.medscape.com/viewarticle/774271
Mukherjee, S. (2015, October 20). Massive gov't study promotes smaller drug doses, more talk therapy for schizophrenia. Retrieved from http://www.biopharmadive.com/news/massive-govt-study-promotes-smaller-drug-doses-more-talk-therapy-for-schi/407647/

The preceding article was solely written by the author named above. Any views and opinions expressed are not necessarily shared by GoodTherapy.org. Questions or concerns about the preceding article can be directed to the author or posted as a comment below.