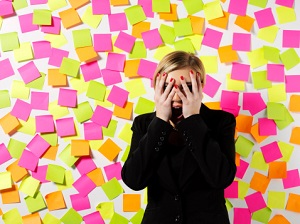 "Mindfulness is a tool to get underneath our defenses. When we can observe ourselves closely, experiencing our feelings but not reacting to them, we don't have to pretend that we don't feel." – Richard O'Connor
Annie hurtled down the road of life like a Mack truck. The daughter of an alcoholic father and a depressed mother, she had married young, reared five children before returning to school to obtain bachelor's and master's degrees in education, worn herself ragged working a full-time and two part-time jobs while transitioning into her new career, was divorced and on her own in her late 40s when her husband left her for another woman, and had just moved from her native Wisconsin to the south to start a new life. Now in her late 50s, she was embarking on a full-time job working with developmentally disabled students. Annie was always cheerful, laughing and upbeat with her students and coworkers. There was only one problem: Annie always had to be right.
One day, out of the blue, Annie made an unintended error in documentation. She was called into her principal's office, where they became involved in a verbal altercation. Annie quit and walked out in a huff. She called me requesting career counseling to help her get back in the workforce as quickly as possible.
Darcy was a very competent but overbearing manager in the insurance industry who got through life by intimidating others. Darcy, although not liked by many of her peers, was secretly admired for her willingness to stand up for her principles, her refusal to back down when she knew she was right, and her defiant attitude toward "jerky" bosses, "rude" customers, and the state insurance commissioner. Darcy took no nonsense at home, either, flaunting her role as the primary breadwinner and tyrannizing her family with ultimatums, threats, and refusals to accept excuses for imperfection.
One day at work, Darcy began to experience severe chest pains and shortness of breath, but waited until the end of the workday to drive herself to the emergency room. Although a routine EKG revealed no abnormalities, Darcy was admitted to the hospital for observation. The next morning, she woke up sobbing. Summoning the hospital chaplain, she admitted to him that she didn't think she could go on. However, she was deemed by the staff not to be a threat to herself. Upon discharge from the hospital the next day, Darcy called me, saying she needed help getting her life back under control so that she could resume her normal routine.
Sam couldn't understand that stress management meant something other than forcing his employer to see things his way. A computer repair technician, Sam had for years worked for a small, local family business and loved it. Unfortunately, Sam's company had recently been acquired by a giant corporation. He suddenly found himself either on call or traveling many more hours during the week than he had ever imagined working at his age. The additional hours were beginning to place a great deal of stress on his marriage. He became angry and righteously indignant at his new employer's seeming lack of concern for him and his fellow employees.
Sam came to see me to get help with his job-related stress. After completing our intake session, I asked him what he wanted to do about the problem. He said he thought his best course of action would be to prove to his new bosses that they were taking the wrong approach by trying to work their employees to death.
"If you have a fussy baby, do you shout at the baby? Do you get angry at it? Do you shake it? No—you build a cradle for the baby." – Anh-Huong Nguyen
Workaholism. Superwoman syndrome. "If I keep telling them they're wrong, they'll eventually have to understand!" Counselors see these coping strategies every day in our practices. Sometimes we may even notice a touch of these issues in ourselves. In Buddhist thought, a single word encompasses the psychic difficulties these three individuals experience: mindlessness. Instead of paying attention and taking corrective action when stress threatens to shut us down, we resolutely keep going, seemingly unaware of the mental and physical toll that "keeping going" entails—until, one day, we just can't go anymore.
In therapy, each of these clients had to learn some important lessons:
Learning slow down
Getting to know themselves and their feelings
Understanding their perpetual "fight-or-flight" stress response and how it would, if unchecked, eventually wreck their health, cause them to lose beneficial relationships, and ruin any possibilities for really enjoying their lives
Cognitive behavioral therapy was not effective with these clients because, frankly, they were each too skillful at arguing and thus too adept at "poking holes" in my attempts to confront the maladaptive thought patterns that had spawned their unhealthy coping strategies.
Instead, I worked with each of them on the practice of mindfulness: spending at least a few moments each day in quiet contemplation and paying attention to what was going on in their mental world—including their (often harsh) judgments of the thoughts and feelings that arose during the process. They each learned that it's not necessary to respond to self-blaming or critical judgments. What is important is to simply learn to observe the thoughts, identify them, accept them, and then move on. As they learned this practice over weeks or months, each also learned valuable information about themselves.
Annie came to understand that for years, she had allowed the stress of her work to blot out her sadness at not having a loving father. Her angry conflict years later at a male supervisor was an outburst she had never been able to make as a child. She learned to slow down, came to accept that neither she nor others were required to be perfect, acquired several fulfilling hobbies, looked for a less stressful job, and began to visit friends more.
Being the oldest child of a widowed working mother had forced Darcy to assume an adult role before she was prepared to. Through mindfulness practice, she began to access the feelings of grief, betrayal, and anger that she hadn't been able to feel at that time. She and her husband entered marriage counseling in an attempt to balance the power in their relationship and come to agreement on a new, more nurturing parenting style for their children.
After months of fighting a control battle with his employers, Sam finally came to accept that being a "real" man doesn't always mean you have to fight. Nor does it guarantee that you'll win every battle in which you engage, contrary to what he thought he had learned through role modeling as a child. After consultation with his family and some career counseling, Sam tendered his resignation, took a part-time consulting job with much lower stress, and signed up for web design classes at a local tech school in preparation for a new solo career.
In the case of each of these clients, the behaviors that had perpetuated their distress had been defense mechanisms against painful feelings of loss, inadequacy, anger, or shame. Each had to learn to "build a cradle" for the inner child they had long ago alienated, albeit out of seeming necessity. And, eventually, they did.
A word of caution is in order here: mindfulness practices may not be appropriate for every client in every situation, especially cases involving posttraumatic stress or severe depression accompanied by rumination. Practicing mindfulness for such clients, especially outside of therapy sessions, may elicit feelings that are too uncomfortable to justify the use of the technique. As with any intervention to be practiced outside of sessions, care must be taken to assure that the client understands the purpose for using mindfulness-based techniques and is comfortable working with them.
Superheroes are for comic books and video games. Humans aren't superheroes—nor were we intended to be. Sometimes it takes a near calamity for us to realize this. For others, the process of coming to this understanding is slower and more subtle. Slowing down and becoming mindful of our inner processes allows us to see and to accept who we really are, and to stop judging ourselves and others by impossible standards. Becoming mindful can free us from the bonds of the past, help us embrace the possibilities of the now, and—as for Annie, Darcy and Sam—open us to a more fulfilling future.
Reference:
O'Connor, Richard. Undoing perpetual stress: The missing connection between depression, anxiety and 21st century illness. New York: Penguin.
© Copyright 2011 by Suellen Fagin-Allen, JD, LMHC, PA, therapist in Orlando, Florida. All Rights Reserved. Permission to publish granted to GoodTherapy.org.
The preceding article was solely written by the author named above. Any views and opinions expressed are not necessarily shared by GoodTherapy.org. Questions or concerns about the preceding article can be directed to the author or posted as a comment below.