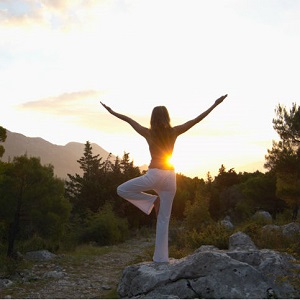 "When I counted up my demons I saw there was one for every day. But with the good ones on my shoulder, I drove the other ones away." – Coldplay
Riding the Train
I stood on my yoga mat, the sound of my breath pounding in my ears like the thunderous sound of a train. Each wayward thought competed to hijack the breath and the mantra of "peace" that I started my yoga practice with that day. My sense of calm clamored to stay on board, while my thoughts gallivanted about like wild monkeys: "No, lets go here." "Yep, wander off. Get distracted." Witnessing this, with loving kindness, I would have to bring myself back to my breath. I would find peace in the spaces in between the thoughts; they were heavenly stops where my "monkey mind" would just rest and let me focus on riding the breath. Of course they started again, you know they always do. But those moments of stillness were magnificent, and the very essence of the peace that I sought. I just had to trust that more stops would come. And they did. I returned to my breath following it back to my true self. And the journey continues.
Showing Up
Lets just put this out here; anyone who says that meditation, yoga, or other activities that promote mindfulness are "easy" just hasn't experienced them. You and I both also know that it can initially take a greater sense of effort to just "be in the moment" than to allow the monkey-like thoughts to take over. Many find that the benefits of showing up for such practices outweigh the effort that it can take to get on the mat in the first place.
Don't get me wrong, I am no yoga instructor. What I am is a trauma counselor who cherishes yoga, especially what it offers the people I work with, as well as myself. I encourage people with trauma histories to consider a yoga practice as part of their daily living.
The Witness
Ironically, though the postures alone are what many think of when they consider yoga, it is also the actual principles of yoga that are truly conducive to healthy living. Yoga offers its practitioners greater body awareness, self-acceptance, and introspection. As a result, and what I find the most beneficial, one learns to "witness" what's happening in the internal world, rather than getting "sucked into it." "Witnessing" what is happening on the mat, just as in life, is the opposite to being hijacked by our thoughts, emotions, or sensations that show up. With this in mind, when we can develop that skill of witnessing, rather than judging ourselves, we are also better able to demonstrate a greater sense of self-acceptance. I find that trauma survivors, for example, are better able to become grounded, and manage their feelings, rather than being taken over or unable to tolerate them as they process them in session.
Body Talk
Yoga encourages you to listen to your body and gain a greater awareness of it, rather than being dissociated from it. Our bodies communicate with us regularly. Whether it is in the form of pain, tension, tightness, or pure relaxation, the body always speaks. The problem is that we don't listen, or may not want to hear its message.
As I have said in previous articles, the body has memory. Often times, the body will remember something, even if the conscious mind does not. Because I primarily work with clients with histories of trauma, for example, their trauma often "shows up" in their bodies and gives them triggers for anxiety and fear, even though they have no conscious knowledge of its origination. The body wants to release the trauma out of the nervous system. But, through yoga, if they have developed the ability to "witness it," rather than get taken over by it, they can look at what the body told them, process it, and integrate it more fully.
The Journey
I truly believe that as therapists, we cannot take our clients further than we have gone ourselves. Therefore, it is imperative that we continue to explore our inner worlds and promote our healing journeys. For me, exploring yoga is just part of my experience of that very thing. So, as one of my clients asked me recently, "Sarah, what's up with this yoga thing you are talking about?" I don't know the definitive answer. What I do know is that you may find it worth exploring. There may be a gift waiting for you when the train stops, in those moments between your thoughts.
Now don't get me wrong, I also know how hard it can be to make a change. Like you, I'm also human, and can struggle to get to the mat in the first place. The mind, life, and various other distractions ask us to curtail the very things that benefit us the most. But, our inner sense of peace and calm requires that we listen to what our truest self needs, not what the judgments, repeated negative thoughts, and distractions tell us.
Whether it is through yoga or another healthy, nurturing practice, you can find ways to love yourself enough to quiet those unruly thoughts, especially if they want to derail you along your healing journey. And it is through that journey, and experiencing our world authentically, that we connect with our true nature.

The preceding article was solely written by the author named above. Any views and opinions expressed are not necessarily shared by GoodTherapy.org. Questions or concerns about the preceding article can be directed to the author or posted as a comment below.