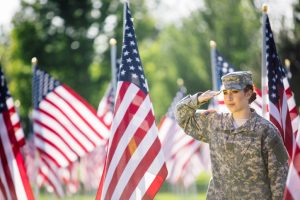 Career military women who were deployed to Vietnam report greater happiness than women in the general population, according to a study published in the journal Social Science & Medicine – Population Health.
Are Career Military Women Healthier?
The study followed 1,285 women who served in Vietnam and then responded to a mail questionnaire approximately 25 years later. They were asked to reflect upon their experiences in Vietnam and describe their health histories. Researchers compared civilian women who served in Vietnam—most commonly as American Red Cross workers—to career military women. They adjusted for factors such as working conditions, sexual harassment, length of service, and demographics to reduce the influence of these factors.
Career military women were more likely (48%) to report being "very happy" than women in the general population (38%). Civilians who served in Vietnam reported better mental health than other groups. Women who served in Vietnam in any role were less likely than women in the general population to marry or have children.
rape
, physical dangers, and
substance abuse
as significant sources of
stress
.
Major predictors of mental health issues such as posttraumatic stress (PTSD) were demographic factors, war zone experiences, and homecoming experiences rather than length or type of service.
Mental Health Risk Factors Associated with Military Service
Women in the military experience many mental health risk factors. A 2015 study found PTSD rates are similar between men and women in the military. However, women seeking benefits from the U.S. Department of Veterans Affairs (VA) are much more likely than men to have been sexually assaulted (71% of women compared to 4% of men). Another study found 2 in 5 military women reported sexual assault or harassment, compared to about 1 in 5 in the general population.
Reference:
Kaiser, A. P., Kabat, D. H., Spiro, A., III, Davison, E. H., & Stellman, J. M. (2017). Women at war: The crucible of Vietnam. Social Science & Medicine—Population Health. http://dx.doi.org/10.1016/j.ssmph.2017.01.003
© Copyright 2017 GoodTherapy.org. All rights reserved.
The preceding article was solely written by the author named above. Any views and opinions expressed are not necessarily shared by GoodTherapy.org. Questions or concerns about the preceding article can be directed to the author or posted as a comment below.