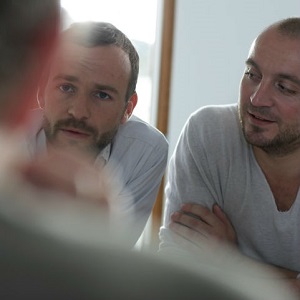 Editor's note: Names and identifying information have been changed for the privacy of the participants of this support group.
This is the second entry in a two-part blog series about a men's therapy group that I conduct on a weekly basis. For background information on the group, see my first blog entry, Men Supporting Men: An Introduction to a Men's Therapy Group.
Why do so many men have problems with anger management? What does it mean when men frequently make joking, sarcastic comments? Why are so many men defensive and reactive to complaints or "feedback" by others? Men are biologically programmed as hunters and warriors. These are basic, biological survival skills. Anger is one of the five basic emotions that results from biological forces, triggered by dangerous, threatening circumstances—real or perceived.
Culturally, men have been influenced by unrealistic contemporary archetypes (the solitary cowboy, the brave soldier, the invulnerable superhero). We are often taught to contain our emotions—"big boys don't cry." We are taught that our job is to protect and provide for our family. As children, we are rarely taught to understand our feelings, to talk about them, or to discuss relationships and other concerns openly and with empathy. That's what women do. Men solve problems, fix things, and are defined by our work roles. As men, we feel good when we know that we've done a good job and we've provided for our families. Conversely, we feel ashamed or inadequate when we feel we've failed as protector or provider.
therapy group
, I noticed an emerging trend; I frequently heard loud talking and laughter in the waiting room before the group started. It was clear that the men were bonding. With my encouragement, they began to talk about this in the group. Almost every week the men would make mention of how important the group is to them. They feel supported by each other, and some of them would talk about how this is the first time they ever felt really cared for by other men.
The loud talking and joking often took the form of sarcasm and teasing behavior, with mock insults—the kind of digs most guys experience with each other starting in grade school. At first I didn't think much of it, they were just being guys who were feeling comfortable with each other and enjoying the companionship. I was not mindful that there may be other feelings involved, such as anger, fear, and shame. It had not occurred to me that some important group dynamics were playing out here: competition ("one-upsmanship"), jockeying for social standing in the group, and an ego-based need to show power and invulnerability.
At the beginning of a subsequent session one group member, John, made a joking, but rather sharp and sarcastic jab at Kevin. It concerned a series of text messages between them regarding a workshop in which they both had a leadership role. (In essence, John was telling Kevin he would get him back for something Kevin said in another text message, a pseudo-threat.) I noticed that Kevin reacted with a subtle facial expression of discomfort. I intervened at that point.
First we talked about Kevin's reaction. He reluctantly acknowledged that he felt "stung" by John's comment. I asked him to go deeper with his feelings, and he said he felt hurt, ashamed, and a little angry with John. He felt ashamed both because he had contributed to this series of interactions by making joking, sarcastic comments about John in previous text messages, and he also felt ashamed about feeling hurt and angry in this present moment. He even felt anxious about revealing his feelings because he was afraid of a more serious confrontation with John.
John denied any anger or hurt feelings, himself, which certainly contributed to his role in these dynamics. John is among the oldest members of the group. He has owned a small contracting business for many years. In years past, he would be described as a "man's man"—a big, strong guy with a booming voice and an easy smile. He can also be easy to anger, somewhat controlling, and is not inclined toward being emotionally minded. John is one of the most frequent jokesters in the group. He also happens to be one of the more confrontational and judgmental members of the group.
When Kevin expressed his true feelings of hurt, anxiety, and shame, John was defensive. He said he didn't mean anything by it and even intimated that Kevin was being too sensitive. Kevin responded by saying it wasn't really a big deal and he wanted to drop the whole thing. I commented to the group that I had recently noticed the teasing, joking, and mocking behavior. I wondered out loud about the possibility that the joking could cover up other feelings. I suggested that the members might find it difficult to confront one another openly. At first, there was an immediate denial by several members. John himself indicated that this was normal "locker-room behavior" by men. Others said it was simply the way they learned to bond with other men. I pressed the issue and asked the men who were either quiet or were exhibiting non-verbal cues.
Mark, a health care professional, was the first to take a risk. He said he was uncomfortable with the encounter between John and Kevin, and he acknowledged that he has often been uncomfortable with the teasing behavior in the group. Two other members joined with Mark in expressing similar feelings and concerns. These comments led to a spirited debate between the men about the joking, teasing, and put-downs.
In the next group session John said, "Last week was the first group session I didn't like. I didn't learn anything." I asked him what he was feeling, and he did acknowledge some "frustration." I'm certain he was angry with me, but he denied this at first. A few weeks later, he acknowledged his anger toward me for making it his "fault." We were able to work through this impasse and, more recently, he's been working on understanding his anger and how he uses his power to control others and to protect his deeper, more vulnerable feelings, including shame.
Men react with anger for many reasons. Shame and the fear that we are not good enough as men are major forces in our lives. We are the hunters and warriors, and we often feel that our true value in life is our ability to protect and provide. As men, we learn that vulnerability is potentially dangerous, even shameful. In this men's group, the anger tends to be either defensive—protecting emotional vulnerabilities such as shame—or a form of aggression—often disguised as sarcastic joking or teasing—a form of competition and jockeying for personal power, prestige, and social status. Is it also a form of bonding? I think so. As men, we are taught that displays of honest intimacy and love for another man is shameful. Teasing behavior is a kind of code between men: the teasing really means that, "I like you, but don't think I'm weak or effeminate." The challenge is to "tease out" that which is caring, bonding behavior from that which is disguised anger or manipulation.

The preceding article was solely written by the author named above. Any views and opinions expressed are not necessarily shared by GoodTherapy.org. Questions or concerns about the preceding article can be directed to the author or posted as a comment below.