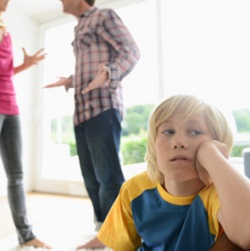 If you want to improve your relationship with your children, you may need to begin by improving your marriage, at least according to a new study. The study found that fights between spouses led to strained relationships with children. The strain was most pronounced for fathers.
How Fights Affect Parent-Child Relationships
Researchers asked parents in over 200 families to keep diaries logging marital disagreements and interactions with their children for 15 days. Both mothers and fathers rated their marriages and their relationships with their children at the end of each day. Parents who reported discord within their marriage were more likely to report strain in their relationships with their children.
Mothers were better able to control the effects of marital discord, though. During times of marital conflict, mothers' relationships with their children were strained for only a day. In fact, researchers found that mothers' relationships with their children actually improved after the conflict, suggesting that mothers took steps to compensate for the negative effects of marital discord.
For fathers, marital tension spilled over into the next day. The effect was particularly strong in families where the mother showed signs of depression. These fathers' interactions with their children were particularly negative the day after a marital fight.
The Marriage as a Family Hub
The study's authors explain their findings by referring to marriages as "hub relationships" that spill over into other family relationships. Marital conflict is a serious family issue, with a 2011 study finding that 22% of couples reported "high" marital conflict, and 60% of couples reported moderate conflict. Only 16% of couples reported little or no conflict.
Conflicts between parents don't have to be damaging to children, though. Previous research has found that the worst conflicts are those that use destructive language and fighting techniques. According to a 2012 study, children closely observe how their parents disagree with one another. When parents disagree in a respectful way that fosters mutual concern and collaboration, children see fewer negative effects.
References:
Lowry, R. (2012, September 4). Study: Marital conflict affects kids; not all conflict has negative effects. Retrieved from http://www.deseretnews.com/article/765601683/Study-Marital-conflict-affects-kids-not-all-conflict-has-negative-effects.html?pg=all
Parents' fights may strain bonds with their kids. (2014, August 28). Retrieved from http://consumer.healthday.com/mental-health-information-25/behavior-health-news-56/parents-disagreements-can-hurt-their-children-690534.html
© Copyright 2014 GoodTherapy.org. All rights reserved.
The preceding article was solely written by the author named above. Any views and opinions expressed are not necessarily shared by GoodTherapy.org. Questions or concerns about the preceding article can be directed to the author or posted as a comment below.