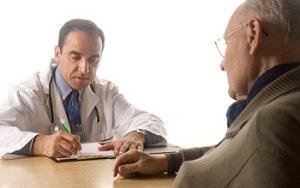 "David" is 62. He finished chemotherapy for colon cancer about a year ago. Physically, he feels strong; he exercises almost daily. Emotionally, however, things are more challenging. David wakes up every day wondering if he is going to have a recurrence. Thus far, his follow-up testing (which includes CT scans and blood work) has revealed nothing to worry about. His doctor has reiterated this fact, but David can't shake a nagging feeling.
David is embarrassed to share his concern with his wife. The one time he did, she told him he was crazy, and that there was nothing to worry about. His fearfulness, though, is impacting their relationship. David feels anxious much of the time, and, since his wife is unsupportive, he is gradually pulling away from her.
David's feelings are not uncommon. Many cancer survivors struggle with fear and uncertainty after their treatments end. While the fear may be about a recurrence, it may also be about more common things, including job security and finances. It may also be a fear which is difficult to name – free floating and imprecise – yet omnipresent and difficult to shake.
For many people, having cancer divides their life in two:  before and after. Before cancer, they may have been blissfully unaware of their own mortality. After cancer, they realize that life is indeed finite; that nothing is guaranteed nor should be taken for granted. They have been shaken to their very core. What was once a very predictable life with a routine now feels like a life built on a foundation of sand.
What is one to do then? How is it possible to live a life with meaning without fear?
There are two broad themes that are crucial:  taking things one day at a time and recognizing what you can and can't control.
Taking Things One Day at a Time
When people are stressed, it is easy for them to spin out of control with worry. Here's an example:  I'm not sure I have enough money for my car payment this month. If I can't pay my car payment, I might lose my car. If I lose my car, I'll have to take the bus. I don't think there's a bus stop near my job. If I'm late to work enough times, I'll lose my job. If I lose my job, I won't be able to pay my rent and then I'll lose my apartment. If I lose my apartment, I'll be homeless. If I'm homeless…
You can feel this person's anxiety ramping up as they continue to add one potential problem after another. The important thing to do is focus on today. What can you do or accomplish today? Worrying about tomorrow and beyond is unnecessary because you don't know what will happen then. It's also not helpful – it just causes you to feel more anxious. If you are feeling extremely anxious, focus on getting through just one hour at a time.
Recognizing What You Can and Can't Control
Having cancer provides the ultimate opportunity for teaching people what they can and can't control. There is very little about the illness or treatment that people have control over. The same is true of a recurrence. You will either have a recurrence or you won't. Worrying about it will not change the outcome. If someone in your support group has a recurrence, it has no bearing on whether you will have one. If your physician tells you that everything looks good, why are you worrying?
The only things you have control over are your own thoughts, feelings and actions.
While you may think you can control another person or situation, the reality is you can't. You can plead with someone until you are blue in the face to do what you want them to do, but ultimately, unless they are coerced, people will make their own choices and decisions.
A good way to summarize this is the Serenity Prayer, by Reinhold Niebuhr:  God, grant me the serenity to accept the things I cannot change, the courage to change the things I can, and the wisdom to know the difference.
I frequently share this with people because it is a succinct way to remind them that there are things they can control and things they can't. The more people are able to delineate the difference between the two, the more time they will have to focus their efforts on things they can change.
In closing, there are things you can do to manage fear and uncertainty after a cancer diagnosis. This post talked about two important themes:  taking things one day at a time and recognizing what you can and can't control. In the next post I will discuss more specific ways to manage fear and uncertainty. If you have suggestions for future posts, please email me or post in the comments section below.
© Copyright 2011 by Norma Lee, MA, MD, LMFT. All Rights Reserved. Permission to publish granted to GoodTherapy.org.
The preceding article was solely written by the author named above. Any views and opinions expressed are not necessarily shared by GoodTherapy.org. Questions or concerns about the preceding article can be directed to the author or posted as a comment below.