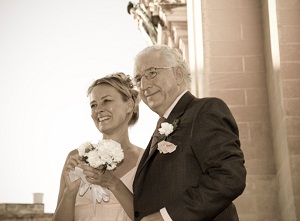 Some divorced individuals believe they will be much happier in their second, third, or fourth marriages than they were in their previous ones. But statistics show that isn't necessarily the case. In fact, the likelihood that someone will divorce rises with each marriage. Typically, this is because people don't ever figure out what caused their first marriage to fail. Maybe their spouses cheated on them, maybe they were too controlling, maybe money was scarce. Regardless, if someone doesn't dig deep and address his or her part in the relationship and how he or she contributed to its demise, there is a good chance that mistakes will be repeated.
According to a recent article by Emanuella Grinberg, couples who marry late in life could benefit from prior divorces by learning something from the past. Rather than jumping into that next marriage out of lust, yearning for companionship, or worse yet, financial needs, spend some time getting to know yourself. New York psychotherapist Lisa Brateman says people who know what they need and want will make better decisions than those who do not, regardless of age or number of trips down the aisle. "Relationships are about enhancing your life rather than giving you a life," she said.
Terri Orbuch, a relationship expert, author and psychologist, gives three tips for divorced individuals who want to take another leap of faith. First, she insists that communication must be a priority, and not just communication about chores, bills, and family issues. She stresses that it's imperative for couples to talk about the things that matter in order to become emotionally bonded. Second, don't take your partner for granted. Divorce teaches you that being acknowledged, even for the little things, is important and keeps spouses from getting fed up and turned off. Finally, Orbuch underscores the significance of financial communication. Money matters, and couples who don't address it early on will end up paying for it, big time, later. Bring up the subject of money and how it relates to your goals and dreams so you both know what to expect and can work together to achieve it. Don't look at past marriages as failures, either. Look at them as learning experiences and stepping stones to more intimate, mature, and meaningful relationships in the future.
Reference:
Grinberg, Emanuella. Boomers who remarry learn from failed relationships. (n.d.): n. pag. CNN. 5 Dec. 2012. Web. 6 Dec. 2012. http://www.cnn.com/2012/12/05/living/baby-boomers-second-families/?hpt=hp_bn11
© Copyright 2012 GoodTherapy.org. All rights reserved.
The preceding article was solely written by the author named above. Any views and opinions expressed are not necessarily shared by GoodTherapy.org. Questions or concerns about the preceding article can be directed to the author or posted as a comment below.