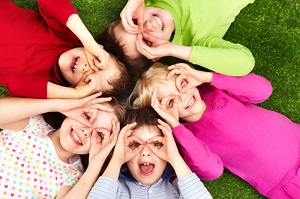 All kids lie. They start young, look innocently into your eyes and tell you the answers that you want to hear. Then it's like a shock to a parent that their child told a lie! How does that happen?
Kids lie because they know instinctively that if they do something wrong, they will see a disapproving look on their parents' face. They don't like that. Parents don't like it when their kids lie.
How do kids lie? Well, instinctively all kids know how to get a reaction from their parents. All kids, and everyone else, would rather receive praise than disappointment. I am going to assume that kids know that if they do lie, they will get in trouble so they will try and hold off getting into trouble as long as they can. It seems to make sense.
Although kids do lie, parents can help set that up. How?
When parents ask their kid if something happened, and parents already think that their child did something, they will still ask.
For example: Kid goes to cookie jar for a cookie. Kid knows he can't have one till after dinner. There are crumbs around the cookie jar and on the kid's face. Parent comes in and sees the mess and sees the kid. Parent asks the question: Did you eat a cookie? The kid responds: No. Parent continues to ask and kid repeatedly says "no", until the kid finally fesses up. Parent and kid are both upset and parent wonders how her child learned how to lie.
The difference for this scenario would be the parent's response with the scenario. Parent sees the mess and kid's face. Parent says: The cookies are not supposed to be eaten till after dinner. Since you ate a cookie now, you may not have one after dinner. The kid may protest. Parent says: Not discussing what you did or didn't do, you are not supposed to have a cookie before dinner. End of discussion.
So, Parents, if it's obvious that your kid did something that he/she is not supposed to, don't set him/her up to lie. Don't ask. It's okay to apologize later if the kid actually didn't do what was thought, but if you already know: make a comment about what happened, tell what was not appropriate, don't engage when the child protests, and say what type of punishment he/she will have or that you will tell him/her later what will happen.
This takes out the whole cycle of your kid lying and you being shocked that he/she lied.
© Copyright 2010 by Kelly Sanders, MFT, therapist in Rancho Cucamonga, California. All Rights Reserved. Permission to publish granted to GoodTherapy.org.
The preceding article was solely written by the author named above. Any views and opinions expressed are not necessarily shared by GoodTherapy.org. Questions or concerns about the preceding article can be directed to the author or posted as a comment below.