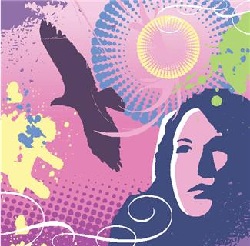 Magic is a way of living. If one has done one's best to steer the chariot, and one then notices that a greater other is actually steering it, then magical operation takes place. —C. G. Jung (The Red Book, p. 315)
I always knew that I was two persons. One was the son of my parents…the other was…old…mistrustful, remote from the world of men, but close to nature, the earth, the sun, the moon…all living creatures…and above all close to the night, to dreams, and to whatever "God" worked directly in him. –C. G. Jung (Memories, Dream, and Reflections, pp. 44-45)
What Jung called his #1 personality lives in a "real" world of day-to-day concerns, and his #2 personality accesses the vastness of the unconscious, what Jungians call the Self. For life to be complete and grounded we need both personalities.  As a child we play and easily access our imaginal, magical powers. By the time we reach adulthood, we often hide "our truth" and we "do things that we don't want to do to please others."
The spirit of the depths forced me to speak to my soul, to call upon her as a living and self-existing being. I had to become aware that I had lost my soul. —C. G. Jung (The Red Book, p. 233)
The trick to reclaiming our imaginal powers is to turn all of life into play, so that every day feels magical. If you are walking through life but not really awake, just going through the motions, and keeping up with other people's expectations of how you should live—I invite you to dreaming and waking up to a life of purpose.  Dreams are gifts (night and waking hours) that help us to shift our habits, to move past our projections, and awaken to the world behind the world where our real purpose and truth can be found. Want to live a life of playfulness and creativity? Ask for, write down, and act in response to your dreams in honorable ways!
In Dancing in the Flames, Marion Woodman writes, "When the soul decides to live, it releases the creative child, who loves to play, for whom ever moment is NOW, the artist [the creator] whose perception bridges the timeless world and time through imagery." (p. 169) Also,  "Our Beingness thrives in the imagination. Children who are given space dance their days through hours of creative play. Adults who give themselves time to play, time to connect to the energy that they so often repress in their workaday world, go into their chaos, and behold, childlike energy is available to them." (p. 186)  Play is the key to your imagination and your deeper life. Play is essential to the creative process.
Dreams are the guiding words of the soul. —C. G. Jung (The Red Book)
Robert Moss writes in his book, Active Dreaming, "To understand dreams and reclaim the practice of imagination, we must look to the master teachers; our inner children and the children around us. When very young, children know how to go to magic kingdoms without paying for tickets, because they are at home in the imagination and live close to their dreams."
Do you remember your night dreams? Your waking dreams?
Many of us have lost touch with our dreams. There is an Australian Aboriginal saying, those who lose the Dreaming are lost.
Want to recall your dreams? Here are some suggestions that may help:
Write down an intention in your journal for the hours of sleep that lie ahead. You might ask for possible answers to a problem you are experiencing in your life. Or you might say simply, I want to have fun remembering my dreams.
Be ready to receive by keeping a pen, paper, or journal next to the bed so that you are ready to record your dream. No matter what time of night it is, say 4 AM, record something in your journal. You can also tape-record your dream.
Only remember fragments. The first dream I ever recorded was of a phone ringing—for me (an important call!).
Still no dream recall?  Wriggle around in bed, go back to the same position in which you woke, laze around in bed and see what comes up. Still nothing—write down your feelings, "body data" or physical sensations. As you write down your residual feeling, you are saying to the source of your dreams, "I'm listening."
You don't need to sleep in order to dream. Waking dreams speak to us like night dreams if we are willing to listen. A license plate or billboard may strike a cord of meaning for you. What is the first thing that catches your eye as you start your day? Are there "meaningful coincidences" or synchronicities that present themselves causing you to pause in your day? Most of us recognize the phenomenon of looking for a red car to buy and seeing red cars everywhere we travel.  Synchronicities happen every day! Have fun watching for them and start making a list. The more you pay attention to dreams and synchronicities of life, the greater the bounty.
Resources:
Woodman, M., Dickson, E. (1997). Dancing in the flames: The dark goddess in the transformation of consciousness. Boston, MA: Shambhala Publications.
Jung, C. G. (1963). Memories, dreams, and reflections. New York: Random House.
Moss, R. (2011). Active dreaming: Journeying beyond self-limitation to a life of wild freedom. Novato, CA: New World Library.
Related articles:
Psyche's Nature is Playful
Synchronicity: Connecting the Dots
Playful Living Starts With You
© Copyright 2012 GoodTherapy.org. All rights reserved. Permission to publish granted by Mary Alice Long, PhD
The preceding article was solely written by the author named above. Any views and opinions expressed are not necessarily shared by GoodTherapy.org. Questions or concerns about the preceding article can be directed to the author or posted as a comment below.