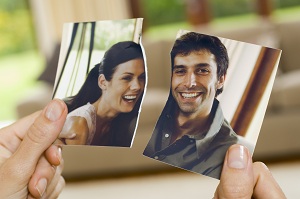 Oh no, another couple you know is getting a divorce! Do you think it's contagious? Are you worried that break-ups are like a virus you could catch?
It's true that if you already have some little doubts inside you, someone else's breakup could wake them up. And who doesn't have doubts? After the romance fades, it's natural to have some dissatisfaction brewing somewhere inside you. Don't worry — there is an antidote.
In fact, your doubts can be an opportunity for you to keep your own marriage alive and vital.  Over time, your original clear, committed choice to be with your mate can get a little frayed. You might hear yourself saying, "I married him, so I guess I have to stay with him." You can use your doubts to get back on track, even knowing all you know about your partner.
Here's how to do that:
1. Use your doubts as a reminder to give feedback to your partner about what you don't like.
If you have been holding back your feedback, there's probably a good reason: feedback is risky. You almost never get the perfect response — people are usually defensive when they first hear feedback. Wouldn't you be too? It's hard to hear things about yourself that are different from how you see yourself. When you give feedback, get ready for three waves of defensiveness — the last one could be a tsunami.
Resolve to stay calm, articulate, and committed to working together throughout the whole conversation. Give up the expectation that your partner will totally agree with you right now. Give him or her time to let it settle in. Let the waves of defensiveness wash on the beach and recede out to sea. In a couple of days you might hear him or her saying exactly what you said as if it was their idea!
Feedback is risky — and rewarding.
2.  Remember to choose the challenge
Every relationship brings challenges, and usually not the ones you expected. Too much risk or not enough risk; too much excitement or too much security; too much or too little emotional conversation; too much or too little sex; too much negativity, independence, togetherness, work, play. If you can take those challenges as an opportunity to grow, you can keep your choice alive and vital.
Ask yourself:
What do I need to do within myself to meet these challenges?
Do I need to start taking more initiative for fun, sex, or emotional talks?
Do I need to stay calmer when I don't get what I want?
How could I be more creative about making these things happen?
Am I contributing to the problem by the way I get impatient, hold back, give up, argue, or judge?
Meeting these challenges will make you grow as a person. In fact, I believe that meeting marriage challenges can be a huge catalyst for beneficial personal change. Keep your commitment alive and vital by choosing the challenge your partner brings you: you've chosen your partner, and challenges go right along with that choice. Whatever it is, take it as your personal challenge to grow to meet that challenge with calm, confidence, clarity, and creativity.
In Internal Family Systems Therapy those are called Self qualities. They are who you are. Anything different than those qualities are parts of you trying to help (arguing, criticizing, getting angry, giving up) but actually adding to the problem.
It's okay if marriages are breaking up around you. Use your doubts to create a more robust, vital commitment with your partner, and to choose and re-choose the challenge your partner brings you.

The preceding article was solely written by the author named above. Any views and opinions expressed are not necessarily shared by GoodTherapy.org. Questions or concerns about the preceding article can be directed to the author or posted as a comment below.