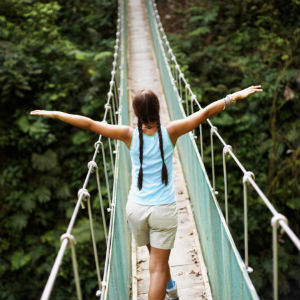 Once upon a time, many years ago, in a kingdom called Freud, people believed insight led to change. Sometimes it did, though it often took four sessions a week for many years.
These days, we typically want something a bit faster. While insight can lead to change, change actually triggers more change. Thinking about starting yoga or meditation is often the catalyst to practicing; however, just getting one's body to a yoga class or on a meditation cushion will produce more immediate results and a feeling of accomplishment.
Some of you might be thinking, "I have to psych myself up to do something new, especially something I find challenging or scary." Of course you do! The trick is forging forth anyway. The artist Georgia O'Keeffe once said: "I've been absolutely terrified every moment of my life and I've never let it keep me from doing a single thing I wanted to do." Apparently, that worked well for her. Note the key words: "I wanted to do." Most people can muster the courage to do something they find intimidating if the potential payoff is great enough. If not, no one would have a baby, start a new job, ski, or do anything daunting.
Have you ever done something that really scared you? Of course you have. How did it change you? You may want to spend a few minutes thinking about that. Perhaps it allowed you to access a talent that was lying dormant, or to find some inner strength you didn't know you possessed. On the other hand, maybe the experience gave you a cosmic permission slip to never do it again. No matter what happened, just by taking a risk and doing something, anything, you created all sorts of changes. Some of these might not even be apparent, like physiological memories that accrue unconsciously. For example, the first time you tried to swim or do a yoga posture actually set in motion a whole new physical template full of possibilities.
Conversely, you might want to allow yourself to opt out of an activity, giving yourself the option to leave some dragons unslayed. As that may be a change for those of you who are hell-bent on facing every challenge, it might lead to a different kind of change, one where you allow yourself to take it easy.
Does perfectionism stop you from trying new things? Most perfectionists are wary about embarking on new adventures, as they fear doing poorly. As David Burns said in his book Feeling Good: The New Mood Therapy: dare to be average. It eases internal pressure to excel while giving you an opportunity to experiment. In yoga, we call this beginner's mind. Cultivating beginner's mind eliminates the pressure to do an awesome job when you are trying something new, and makes room for simply having fun.
Once you can appreciate how anything you do adds to your life experiences, thereby affecting everything else you do, you may find yourself welcoming all sorts of novel experiences, whether you are successful at them or not. It's not about doing well; it's about just doing. Try it and see how you grow.
© Copyright 2014 GoodTherapy.org. All rights reserved. Permission to publish granted by Nicole S. Urdang, MS, NCC, DHM, Holistic Psychotherapy Topic Expert Contributor
The preceding article was solely written by the author named above. Any views and opinions expressed are not necessarily shared by GoodTherapy.org. Questions or concerns about the preceding article can be directed to the author or posted as a comment below.