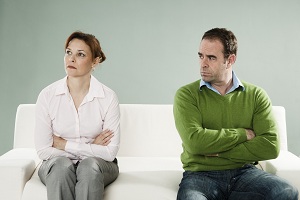 The first step toward divorce is often physical separation. One partner may move out of the marital home and establish a residence with a friend, coworker, or even on their own in an apartment until final living arrangements can be made. But in this shaky economy, that is not always a financial option for couples. Houses don't sell like they did just a half a decade ago. And many individuals are unemployed, making economic survival difficult as a couple and nearly impossible alone. Michele F. Lowrance, a judge who has seen numerous divorcing couples during her career, has noticed a trend in recent years. "Many divorcing couples cannot sell their marital home in this market, forcing estranged couples to co-habit indefinitely," said Lowrance. Not only can the financial strain of diminished income and lost equity exacerbate marital conflicts and raise the tension in a good relationship, but it can also stall the road to recovery for couples embarking on single lives.
In a recent article, Lowrance makes some suggestions for couples in this situation. She calls this roadmap "behavior modification by court order." First, she recommends that divorcing individuals who live together begin by developing a budget to ensure that all living expenses be met and divided fairly. This will remove any possibility of either party assuming too much financial obligation during the pseudo-separation. When conflict arises, as it is sure to do, Lowrance believes it is imperative for each spouse to take responsibility for their part in the disagreement and acknowledge bad behavior. If frustrations and tensions rise, she suggests waiting a full day before approaching the subject again. When that time comes, there may be more insight and solutions may be revealed. Allowing for a do-over, a new discussion about the same topic, but with different results, is a must for healthy communication.
Lowrance also thinks that having two different solutions to the situation at hand will provide alternative outcomes and will shift the focus from blame to cooperation and compromise. These approaches may sound simple, but they will probably not be easy. If these strategies came naturally, many couples could potentially avoid divorce. But for those forced to live with their soon-to-be ex-spouse, these tactics could help keep the peace during a difficult time.
Reference:
Lowrance, Michele F. Chained to your ex? How to live together after a divorce. NBCnews.com (n.d.): n. pag. 23 Dec. 2012. Web. 30 Dec. 2012. http://tv.msnbc.com/2012/12/23/chained-to-your-ex-how-to-live-together-after-a-divorce/
© Copyright 2013 GoodTherapy.org. All rights reserved.
The preceding article was solely written by the author named above. Any views and opinions expressed are not necessarily shared by GoodTherapy.org. Questions or concerns about the preceding article can be directed to the author or posted as a comment below.