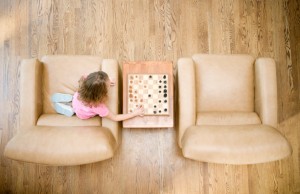 Losing a child is a devastating and life-altering experience. Not only are the parents and extended family members of the deceased significantly affected by the loss, but siblings of the deceased are also dramatically impacted. When a child dies, the well-being of the parents is often everyone's primary concern, and it seems that few studies have looked at how children grieve the loss of a sibling. Understanding the coping strategies they use and exploring their emotional state during the grieving process can provide an important contribution to the study of grieving.
Maru Barrera of the Department of Psychology, Hematology – Oncology Program at The Hospital for Sick Children and the Department of Public Health Sciences at the University of Toronto in Canada recently led a study looking at how children grieved the loss of a sibling to cancer. The data Barrera collected was gathered from parental reports and was based on children of all ages.
Several themes emerged from the study. First, Barrera found that although the death caused various reactions, the majority of the respondents were able to process their grief and continue on with life when assessed 18 months after the death. For young children who did not fully understand death at six months after the loss, they gained significant awareness about the permanence of death at the 18 month follow-up. Behavior problems were not elevated in this group, but parents did note that these young children pretended to engage with their deceased sibling during play time, expressed concern for the well-being of their parents, and were able to verbalize their emotions of grief, sadness, and depression.
The older children and adolescents were less willing or able to verbalize their grief. The parents reported that these children acted out more and engaged in risk-taking behaviors that could be part of the normal developmental process of adolescence, but could also be attributed to their grief and loss. They did report adolescent children had more dreams of their siblings, wanted to be physically close to their siblings' possessions, and had aspirations to enter a field or dedicate their life's work in honor of their deceased siblings. Communication among parents and older children was strained and lacking, but again, Barrera is unsure whether this was due to the overwhelming grief of the parent and child, or was the result of the normal pulling away that occurs during adolescence. Overall, these results provide insight into the ways in which children of various ages process grief and adjust to the changes that the loss of a loved one creates. Barrera said, "Finally, these findings offer important guidance for the development of bereavement support services for this population."
Reference:
Barrera, Maru, Rifat Alam, Norma Mammone D'agostino, David B. Nicholas, and Gerald Schneiderman. Parental perceptions of siblings' grieving after a childhood cancer death: A longitudinal study. Death Studies 37.1 (2013): 25-46. Print.
© Copyright 2013 GoodTherapy.org. All rights reserved.
The preceding article was solely written by the author named above. Any views and opinions expressed are not necessarily shared by GoodTherapy.org. Questions or concerns about the preceding article can be directed to the author or posted as a comment below.