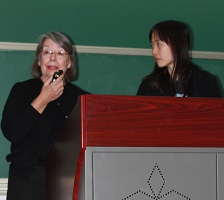 In October, I wrote about going to China as a member of CAPA, the Chinese American Psychoanalytic Association, on a working tour of four main cities- Beijing, Xian, Chengdu and Shanghai. We lectured, visited schools and training institutes, and met individually with people who wanted private consultations. I knew I would miss my friends and family, and I was a little scared to go so far away.
I met many different people in a professional context – psychotherapists, psychiatrists, students, workers, and government personnel, but most revealing were the accidental encounters with the people who helped me whenever I needed directions. My first day in Beijing, I got lost on the subway, and was rescued by some teenagers who showed me how to pay, where to get on the subway, and where to get off, too. People on the street gave me directions when I needed them, in a combination of English and sign language. (My Mandarin is close to non-existent.) Everyone was kind, welcoming and gracious. Servers in restaurants used pictures and advice when I tried to figure out what to eat. It's a bit frightening to not know the language in a foreign country; I was in China to teach about what to do when you're feeling very nervous, and I was getting the chance to use my own advice.
I gave a paper at the University of Beijing about combining breath work with psychotherapy to help people deal with anxiety, a universal problem that ignores borders, culture and language. The translator I worked with was a humorous and sensitive woman and we had great fun together. I think the audience did too, listening and laughing with us, asking about life in the States, trying different ways to breathe.
I also met individually with people who wanted a consultation. My first session in Beijing was with a young master's level psychology student, Liao. She was dressed stylishly, with a black beret perched on the diagonal over her lovely long hair. Although she said she wanted assistance finding ways to work with a difficult patient, she was really looking for career guidance and encouragement to follow her heart; she veered back and forth between herself and her work, and then admitted that she wanted to talk about herself. I told her to go right ahead. This is a common experience in the US, too. People come for consultations about someone else, a friend, say, or a relative, but after all they want to talk about their own problems, and the story about the "friend" is their way to open the possibility of therapy for themselves. It's a safety line.
Liao asked what life was like for me when I was 22 (her age now), and I told her I was totally miserable when I was 22, that I didn't know what to do, and that I felt hopeless, lost, and dejected most of the time, which gave her great encouragement. She then confessed that she had failed her application to study with CAPA, the Chinese American Psychoanalytic Association, and felt devastated. All her friends had started their studies with CAPA, and she had not. She was humiliated.
"My only recourse is to lie," Liao said. "How can I tell my friends the truth, that they are better than me, that I'm no good?" She thought for a moment, and then said, "How do you find hope?"
She was desperate, and I remembered what it was like to be 22, when I felt lost and alone. I told her that I used to consult the I Ching, or Book of Changes, one of the oldest of the classic Chinese texts. To consult the I Ching you think of a question, hold it in your mind, and then throw a series of coins, which produce a hexagram that contains the answer to your question. This doesn't sound very scientific, but the psychologist C.G. Jung, who studied the I Ching, explained it as an example of "synchronicity," the coinciding of seemingly random events. Nowadays you don't have to throw real coins; you can consult the I Ching online instead.
Anyway, when I was in my twenties there was no Internet, so I threw real coins whenever I was feeling desperate about my future, and I always got the same result- "persistence furthers."
At first this seemed both useless and annoying, but after a few years, as I continued to get the same result (at least the I Ching was persistent), I began to apply the idea to my personal life, but I didn't stop there; I entered psychotherapy, and, even though my therapist couldn't predict the future any more clearly than the I Ching could, she certainly was able to help me get free from my past, understand the present and set future goals for myself. "Persistence furthers" became my motto, and I advised Liao to make it hers, to begin therapy for herself, and to not give up. I told Liao that although I had little hope for myself, my therapist held great hopes for me, as I do now for Liao.
Related Articles:
Scared Stiff
Who's the Best?
Why See a Therapist When You Can Just Talk to Your Friends?
© Copyright 2011 by By Lynn Somerstein, PhD, NCPsyA, C-IAYT. All Rights Reserved. Permission to publish granted to GoodTherapy.org.
The preceding article was solely written by the author named above. Any views and opinions expressed are not necessarily shared by GoodTherapy.org. Questions or concerns about the preceding article can be directed to the author or posted as a comment below.