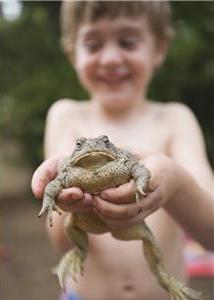 I really appreciate the feedback about principles 1-4 from the GoodTherapy.org community. Your contributions enrich all our growth and learning. Here are principles 5-8.
Principle 5. Never call a bullfrog a giant without thinking about the reference group you use (better yet, just don't compare or label).
If you don't, this bullfrog might think you are judgmental and presuming ("haven't you seen my little sister?"), you might hurt its feelings ("what do you mean?"), it may feel invalidated ("God knows about all the real giant frogs at school who kick me all day"), or hurt ("Don't you know that no bullfrog likes to be called Giant?"). However, you surely will miss important data about this bullfrog.
The significance of a value, behavior, or a characteristic often depends on its context. Therefore, knowing the "possible" or "perceived" average of a certain group is essential to understand a person's experience. Stereotyping is "judging and perceiving people based on one's never-renewed and rigid beliefs or perceptions of a certain group," or "You are from that group, so your group and you are likely to act in a way that I believe is true." On the other hand, knowing the reference point is, "I have some perception about this group, but I know these are tentative reference points that may be invalid."
Example: Superman is not super on his home planet; growing up on earth gave Superman a very different experience and self-concept than growing up on his home planet.
Meta-Skill: (1) Always think about "Knowing the group means, history, and general statistics enables deeper understanding of individual experiences. (2) Ask the person, "What are the cultural expectations for you, and how are you different from these expectations?"
Principle 6. Before calling a bunny a coward, first look for foxes, eagles, tigers, wild cats…
When you only blame the bunny for not coming out of the den to play with you, several things might happen: You underestimate the bunny's intelligence ("get a clue, don't you see the fox behind you?"), you become the eagle's little helper, both you and the bunny may be eaten by the tiger, you endanger the bunny community's trust in you, and you damage your profession's reputation. Moreover, you may not be able to effectively help the bunny to be safe, even though you are trying your best.
Ignoring the power of cultures and oppressions is unethical and aiding-and-abiding oppression. Social justice work requires seeing injustice at social and cultural levels.
For example, when a person says, "I am too shy," we may choose to (1) agree with the person and help this person to be "less shy," or (2) use our multicultural lens and see that perhaps this person's challenge has to do with culture—we may realize "in this specific context and culture at this time this person's preference or behavior may be 'shier' than the group average or expectation, but the same behavior would be very effective or just right in another culture, context, and time." The second choice empowers the person and provides autonomy and choices—"You may not prefer or be familiar with this behavior (more outgoing), but you have recognized that behaving differently may help you to achieve your objectives in this context, time, and culture. Let's explore what other behaviors you may choose to achieve your goals, in addition to being less shy."
Moreover, acknowledging and giving due responsibilities back to cultures also helps us to have more empathy for others and self. How much should we blame individuals' microaggression behaviors only on the individuals, when the mainstream cultures are filled with "isms", binary logics, and negative role models for solving problems? How much should we blame ourselves when we feel powerless when trying to making changes?
Meta-Skill: Assume a person's behavior is rational and be aware of possible oppressions and other cultural factors that may impact the person.
Principle 7. An effective ranger is always "teaming up" instead of "bundling" animals.
If you want to build a solid dam, you would not just tell the rhinos, elephants, hippos, bunnies, beavers, and raccoons, "Let's all do the same task at the same time!" You would understand how each of them may contribute to different tasks from different perspectives, how different groups relate to each other, and how to communicate that this stronger and taller dam can benefit every one.
Treating people the same does not mean treating people equally. What do you think about a person feeding both the infant and the teenager a steak (giving the same thing)? The main challenge in living in a multicultural society is to be mindful in treating people equally. It is not easy. "I treat people the same" is a good beginning and easier to execute.  It takes deep compassion and empathy to treat people equally.
Meta-Skill: (1) Always remember strengths are defined by cultures and context. (2) Be mindful about how you are balancing between "same" and "equal."
Principle 8. Drop your shotgun before offering help, making apologies, asking questions, or asking for help, etc.
If you don't ("I don't have a gun." "I like to hold the gun all the time when in a forest, why should I change?"), the beaver will think you are a hypocrite, the bunny will feel it is being robbed again ("So what may happen to me if I don't accept your apology, after you shot me first?!"), the tiger may feel angry and hurt, the elephants will wonder about your motivation, you will be unlikely to connect with the animals, and as soon as the animals get a chance, they will run as far away from you as possible.
Identifying, being aware of, and dealing with one's own privileges and power are the prerequisites for achieving social justice and creating changes. Privileges and power often are prescribed by cultures. When Group B has been oppressed by Group A's privileges and power, Group B naturally feels anxious and cautious when Group A is present. Even when Group A declares that "we will not abuse our power and privileges," group B knows Group A can still change its mind. (The hunter says to the bunny, "See this gun? I promise I will not use it to hurt you, even though you have seen it kill your friends…")  Moreover, many times the mere presence of privileges is an active reminder or symbol of oppression, even if the privilege holder is not aware of them. ("The things that you have taken for granted for so long and did not even need to notice, do you know how long I have to work my tail off to get them?") Therefore, multiculturalism encourages us to actively identify our privileges and power and consistently be mindful in finding ways to work though our and others' reactions to the privileges and power, so we will not hurt or oppress others when we try to "help."
Finally, when we have privileges and power, we must be extremely mindful when asking for help or forgiveness. "Would you loan me five dollars to pay the taxi, it's only five dollars," Chris Gardner's boss asked him in the movie, "The  Pursuit of Happyness." Chris hesitated, because that was his last five dollars for him and his son. However, he could not refuse the request, that's his boss. It was "only" five dollars for his boss, but it was "all" Chris had at that point. The same care needs to be exercised when asking for forgiveness.
Metal Skill: Even if you never intend to use your power and privilege, you still need to acknowledge them and understand how they may affect others. Search for all your shotguns, then be really careful where you put and use them.
Note: The use of animals in this article is never intended to diminish the injustice or suffering experienced by many groups. The metaphors are for generating thoughts and discussions.
Related articles:
A Secret (and FUN!) Guide to Multicultural Competence (Part 1)
Don't Underestimate Me: Ethical Use of Power for and With Children
Mapping the Power Differential
© Copyright 2012 GoodTherapy.org. All rights reserved.
The preceding article was solely written by the author named above. Any views and opinions expressed are not necessarily shared by GoodTherapy.org. Questions or concerns about the preceding article can be directed to the author or posted as a comment below.