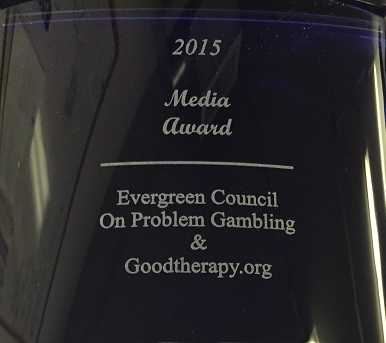 A March Twitter chat hosted by GoodTherapy.org to honor Problem Gambling Awareness Month attracted participants from all over the world and generated a fantastic discussion on the subject of gambling addiction, treatment, and stigma attached to problem gambling. It also caught the attention of the National Council on Problem Gambling, which recognized the efforts of the Evergreen Council on Problem Gambling (ECPG) in coordination with GoodTherapy.org by bestowing the 2015 Media Award on both organizations. The award was presented at the National Conference on Problem Gambling in Baltimore, MD.
We share this award with ECPG not only for their help organizing and promoting the event, but also for the expertise and insight they shared during the chat. All participants engaged in a thoughtful discussion built around core topics that specifically impact people with a gambling addiction, their loved ones, and the professionals who help treat problem gambling. Social media metrics also indicated that the conversation had a significant impact on the worldwide prevalence of keywords and hashtags (#problemgambling) related to the issue.
What are the signs of problem gambling?
How is problem gambling like or unlike other addictions?
How can therapy help with problem gambling?
What are some habits of responsible gamblers?
How can we reduce gambling addiction stigma?
How can loved ones help someone with gambling addiction?
Jo Sahlin, GoodTherapy.org Communication and Outreach Manager, helped prepare the chat and invite participants and participated in the discussion on behalf of GoodTherapy.org. "I wasn't very familiar with gambling addiction," says Sahlin, "so I found the discussion enlightening and informative. It was especially positive and heartwarming because of the hope these organizations had for the future of gambling addiction treatment and recovery, reducing stigma, and helping people recognize signs and symptoms of problem gambling."
We are humbled by the recognition on a national level, but more importantly, we are inspired to continue working to collaborate with other organizations and professionals in the mental health field to raise awareness of important issues and reduce stigma surrounding them! We believe change can only happen when many people are involved in enlightening others, providing access to mental health care for all, and talking about mental health to normalize and destigmatize it.
Follow GoodTherapy.org on Twitter here to stay informed about upcoming events and discussions!
© Copyright 2015 GoodTherapy.org. All rights reserved.