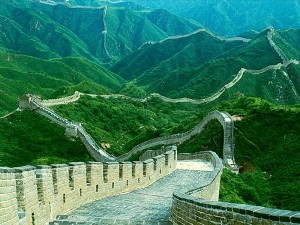 On October 20th, I'll be landing in China (Beijing, to be precise), accompanied by a group of psychoanalysts and therapists who have been teaching and supervising Chinese student analysts in training, using Skype and other distance learning methods. I am psyched. I will see, in person, students with whom I've developed warm relationships, and it is amazing how close people can feel even though they are far away from each other. We'll be seeing each other for the first time. Or will we? It's more accurate to say that we'll be meeting in a different dimension than usual; the two-dimensional screen will vanish and be replaced by three-dimensional flesh and blood.
I know when I get to China I will call my family back in the States, and they will feel so far away it will hurt. Their three dimensions will shrink to two, and their voices will sound tiny even if the computer's volume is turned up, not because the sound is hard to hear but because I will feel their distance.
I'll miss my family, friends and clients, but I am glad to go and have the joyful adventure of working and traveling in China. Most people are pleased for me, happy that I am involved in this journey, all the while knowing that while I'm away they will be in my thoughts, and that I will return. So that's the subject of this blog. Being together and being apart, all the while staying connected.
A long time ago, when I was a research assistant at Columbia, I participated in a series of observations designed to watch the reactions of young children (toddlers, really) as they parted from their mothers, then waited five minutes for their mothers' return.  As they were leaving many of the mothers pointed to a large clock in the room and told their children that they would be back in five minutes. None of the kids could tell time, but many of them watched the clock, as though the clock itself might make their mothers come back, if only they watched it closely enough.
The clock in this scenario was a transitional object, the mother/child thing, which stands for the relationship, like a teddy bear, for example, or a blanket, which are frequent transitional objects. D.W. Winnicott has written extensively about this.
We all have to learn to be together and then to be apart and then be together again—it's called object constancy—meaning that we know even if we don't see a thing, or a person, that thing or that person does not cease to exist. But still, it's hard to remember.
If two lovers are apart for a period of time, they need to recall who they are when they are together, and to have faith that the bond between them remains strong. Sometimes when they return to each other they have angry feelings—perhaps thinking, "Why did you leave me?" Or, "What was I doing, leaving you, coming back to you?"  When people spend time together they develop a mutual rhythm, which is disrupted when they are apart, and it needs to be reestablished when the separation is over.
In the past few weeks I've been furiously attending to ways to keep in touch while in China—setting up a low-cost phone line, for example, and making sure people have that number. The telephone number is my transitional object, I realize; my way of knowing that I will stay in touch, that people can reach me if they need to, and I can call them, too. I guess Google Phone is my teddy bear.
I will be checking in with GoodTherapy.org while I'm in China. If there is anything you would like me to pay attention to or to think about, let me know. I'll be reading your comments as I always do. So drop me a line, please; you'll be on my mind.
© Copyright 2011 by By Lynn Somerstein, PhD, NCPsyA, C-IAYT. All Rights Reserved. Permission to publish granted to GoodTherapy.org.
The preceding article was solely written by the author named above. Any views and opinions expressed are not necessarily shared by GoodTherapy.org. Questions or concerns about the preceding article can be directed to the author or posted as a comment below.