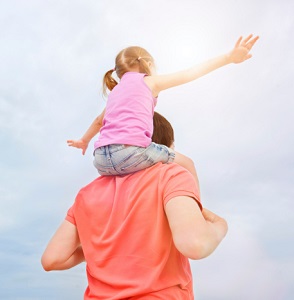 As a young father, I am learning hard lessons about what is within my control and what is not. My behavior often indicates that I believe very much that I have the ability to control my two-year-old daughters' emotions and reactions. Yet, again and again—and admittedly it is usually to my great dismay—I find that I cannot.
In the 1930s and 1940s, the American theologian Reinhold Niebuhr frequently recited a prayer, which evolved, and eventually became integrated into our cultural consciousness as "The Serenity Prayer." An early version recorded in print in 1937 read, "Father, give us courage to change what must be altered, serenity to accept what cannot be helped, and the insight to know the one from the other."
As I learn to sit calmly within the anxiety of my own flaws and inclinations, I hear the echo of this prayer. Of course, my learning is more often than not stumbling, falling, bruised up a bit, and finding those I love the most—my wife, my daughters—experiencing the undue pressure of my failing ways that are, not only unhelpful, but hurtful.
And so, I lean in and long for the echo in the silence of frustration, shame, insecurity. I listen for clarity. I confess pride, and reflect. As I do, I gain perspective, and I realize that the gratitude I have for my wife and for my daughters is the gift that I cannot—need not—control. That I am becoming a husband and a father. Yes, becoming.
In the humility that washes over the ambitious, young, know-it-all therapist, I grieve over that which I cannot control: my Great Dane's need to shake her ears to let me know she needs a potty break in the middle of the night; economic storms and uncertainty; my daughters' tantrums; the twists and turns of life's way.
Elisabeth Kubler-Ross gave me words for my grieving, and so I know that I have long since moved beyond mere denial but that I, nonetheless, find myself wrestling in an anger that indicates a compulsion to control, on the outside, what I have not yet mastered on the inside. Bargaining—"promises associated with quiet guilt."  Depression—the emotional experience of losing what you had, or thought you had.
And acceptance: the fifth stage of grieving, of dying. As a Christian, these stages of grieving and dying hold a powerful meaning within that war being waged inside of me. There are parts of my volatile self that need to die, and they do. There is an irony in the death of these parts that answers longing but also requires grieving.
There is a turning point when grief gives way to light, to vision, to new life. I have come to realize that this change often blows in slowly, like a breeze carrying an inviting aroma. I have come to understand there is far more at stake than my present comfort and control. Both hurting and healing spread like a fire from heart to heart.
As I come to understand the breadth and depth of that which I cannot change, I do change. I experience beautiful small moments of new life. I experience the possibility of true love—as a husband, and as a father. And I begin, slowly, surely, to understand that changing and healing and growing are not at all about gaining control, but courage.
References
Kubler-Ross, Elisabeth. (1969).  On death and dying.  New York: Macmillan Publishing Co, Inc.
© Copyright 2011 by Blake Edwards. All Rights Reserved. Permission to publish granted to GoodTherapy.org.
The preceding article was solely written by the author named above. Any views and opinions expressed are not necessarily shared by GoodTherapy.org. Questions or concerns about the preceding article can be directed to the author or posted as a comment below.