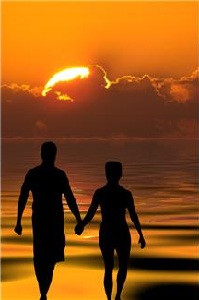 T.S. Eliot called April the cruelest month, but if you are undergoing fertility treatment or recently had a pregnancy loss, then you're probably finding December far more cruel than April. Perhaps you made it through last Christmas or Chanukah by promising yourself a baby by this December. Or maybe your New Year's Resolution was to be pregnant or expecting an adoption placement by the end of 2011.
When the sun is at the horizon at 3:30, all the trees are bare, and the nights are bitter cold, the thought of one more childless holiday may be more than you can stand.
There are two reasons that December makes most infertile people an even deeper shade of blue than their usual:
First, every adult has unrealistic expectations of the joy that will be ours on Christmas morning or the first night of Chanukah. We remember the joys of the holidays when everything was a novelty, when the season itself was a gift. Even in economically-strapped homes, and with less than ideal parents, most families bent over backwards to make the holidays a time of gifts, food and laughter when we were growing up. But part of the magic of the holidays is that when we were young everything was new and magical, from the gleam of a Chanukah coin to the crunch and color of wrapping paper. For most adults, the realities of our lives–dashed expectations, difficult relationships, and conflicts at home and work–sharply contrast with our expectations of holiday bliss that somehow we still haven't outgrown.
The second reason that December is the cruelest month is that Christmas and Chanukah are child-centered events. Nativity scenes are everywhere; the malls are full of shopping families and toddlers in Santa a lap. Most Jewish couples associate Chanukah with children's fascination with lighting candles, laughing as they spin the dreidel and win chocolate coins. These scenes lose their sparkle when every joyful child you see—nieces, nephews, and friends' children—are reminders of the children you don't have yet and wonder if you ever will.
Tips for Getting Through the Holidays
1)      Don't expect to be joyful. A reasonable goal is to get through as best you can. If you manage to have even a little fun, consider that an accomplishment. Recognize that while you're happy for families, you're sad for you and your partner. 
2)      Be compassionate toward yourself (and your partner). Talk to trusted family members and friends who can empathize with the holiday being tough for you. Ask people who have been through infertility and are now parents how they got through the holidays.
3)      Be selective about the family events you will attend. If you have a choice between a Christmas Eve celebration hosted by a younger sister complaining about her accidental third pregnancy, and Christmas Day at your parents or grandparents, choose the latter. Even if the same people are at both events, choose the times and places that feel most comfortable. Many couples choose to come after the babies have torn open their presents, to go to a midnight mass rather than the family service.
4)      Find child-free activities that you couldn't do if you were parents—a ski trip, a diving cruise, a country bed and breakfast. You can celebrate your relationship more quietly and intimately. You can skip family events if you think they'll be too painful.  Even if you are criticized for not being in the spirit, tell people, "Your understanding is the best gift you can give us." You can also have your own celebration at home, perhaps inviting other infertile couples or childless friends.
5)      Find a religious theme you can relate to: Chanukah as a time of rededication and renewal, Christmas as a time of love and hope.
6)      Do something for someone else with Christmas blues.  Serve dinner at a soup kitchen; spend time with an ill or elderly friend, or a foreign student whose family is far away.
7)      Take comfort in the approaching end of December, and the excitement and hope of the New Year.
Please post your comments and/or suggestions for coping with the holidays, and please feel free to send any questions you have about coping with infertility, pregnancy loss, and parenting alternatives.
Related Articles:
Why Should I See a Therapist? I'm Not Crazy – We Just Can't Have a Baby!
Lean on Your Partner to Make It Through the Holidays
Recovering from Holiday Stress
© Copyright 2011 by Merle Ann Bombardieri, MSW, LICSW, ACHP-SW. All Rights Reserved. Permission to publish granted to GoodTherapy.org.
The preceding article was solely written by the author named above. Any views and opinions expressed are not necessarily shared by GoodTherapy.org. Questions or concerns about the preceding article can be directed to the author or posted as a comment below.