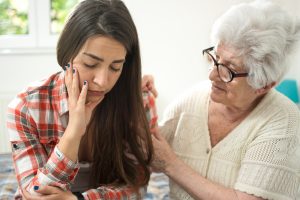 A coordinated team effort that includes doctors, family support, and a depression care manager could be a more effective approach to treating adolescent depression than more traditional methods, according to a study published in the journal JAMA Pediatrics. Researchers say collaborative care may lead to better outcomes while also being more cost-effective in the long term.
According to the National Institute of Mental Health, depression affects an estimated 11.4% of Americans ages 12-17. In addition to the burden it places on adolescents and their loved ones, this high prevalence also puts pressure on the health care system. The financial impact of teenage depression is among the most critical concerns, as costs can quickly become a barrier to treatment by restricting the availability of services.
Collaborative Care vs. Standard Treatment for Depression
This study was built on previous findings that hinted at the applicability of a collaborative care approach to adolescent depression. Researchers conducted a randomized clinical trial with participants from nine different primary care facilities in Washington state. A total of 101 adolescents were included, with 50 of them assigned to receive collaborative care and the rest to usual treatment strategies.
quality-of-life
scores they calculated from participants' survey responses throughout the study.
The findings showed collaborative care had a small but significant advantage over traditional approaches. Initial costs were slightly higher, but the researchers say the difference was statistically insignificant and costs related to the delivery of treatment methods were almost equal.
At the conclusion of the study, about 70% of the teens who received collaborative care saw a significant reduction in depression symptoms. By comparison, about 40% of teens in standard care experienced a decrease in symptoms.
Untreated Adolescent Depression Could Have Lasting Effects
When not treated in adolescence, depression can have negative effects that last well into adulthood. A recently released longitudinal study of 1,265 people from New Zealand found the severity of depression symptoms in adolescence was correlated with many negative outcomes—such as anxiety, major depression, substance abuse, violence, and others—at the ages of 30 and 35. Implementing collaborative care approaches during adolescence may help reduce or prevent further mental health issues in adulthood.
References:
Major depression among adolescents. (n.d.). National Institute of Mental Health. Retrieved from http://www.nimh.nih.gov/health/statistics/prevalence/major-depression-among-adolescents.shtml
Mcleod, G. F., Horwood, L. J., & Fergusson, D. M. (2016). Adolescent depression, adult mental health and psychosocial outcomes at 30 and 35 years. Psychological Medicine, 46(07), 1401-1412. doi:10.1017/s0033291715002950
Wright, D. R., Haaland, W. L., Ludman, E., Mccauley, E., Lindenbaum, J., & Richardson, L. P. (2016). The costs and cost-effectiveness of collaborative care for adolescents with depression in primary care settings. JAMA Pediatrics. doi:10.1001/jamapediatrics.2016.1721
© Copyright 2016 GoodTherapy.org. All rights reserved.
The preceding article was solely written by the author named above. Any views and opinions expressed are not necessarily shared by GoodTherapy.org. Questions or concerns about the preceding article can be directed to the author or posted as a comment below.