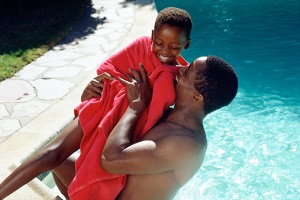 Each child—indeed, each human being—has a mixture of strong points and weak points. Parents can choose to focus on either.
A wonderful book that illustrates this point clearly is Use What You've Got by Barbara Corcoran. Corcoran tells the story of her rise from a D- student with learning disabilities to a successful New York real estate magnate. She attributes her success to the lessons that her mom taught her.
Her mother, the parent of nine normal, challenged kids, had the knack of focusing on strengths. She brought out the best in each of her children. Weaknesses were of little interest to her. The message she sent to young Barbara was, "Don't worry about school. You're much too energetic and creative for the classroom. Just wait until you grow up and are free to use your talents—then you'll really accomplish something."
Barbara's mother similarly encouraged all of Barbara's siblings, finding each child's strong points and highlighting them. All of the kids became successful and accomplished adults, despite their very real limitations.
Emphasize the Positive
All parents can search out and emphasize the unique abilities of their youngsters in the same way. Sometimes a child's glaring limitation has a powerful strength as its flip side. For instance, a stubborn, strong-willed youngster may be so determined that he'll be able to move mountains as an adult. With his conviction, confidence, and vision, he may be able to do what more compliant, agreeable folks cannot.
Parents can choose to emphasize whichever side of the coin they prefer. It's important to remember that whatever behavior a parent pays attention to increases. Pay attention to the dysfunctional behavior, and you'll see much more of it. Pay attention to the positive behavior and you'll see much more of that.
Parents can ask themselves, what is the latent positive trait hidden inside my child's overt negative trait? A shy, withdrawn girl may be a loner, or she may be a self-sufficient individualist with a rich inner world who will one day become a famous writer. A hyperactive young man who cannot sit still or concentrate in school may be a mover and shaker on the movie set, a physical fitness coach, or an entrepreneur who travels the world. Parents need to see these possibilities and help their children identify with the positive side of seemingly-problematic traits.
There are Many Different Ways to "Succeed"
When parents use their attention to encourage a child's strengths, those strengths become stronger and the weaknesses become weaker. Instead of constantly bemoaning a child's poor grades, consider making note of those academic challenges, providing whatever support is possible, and then moving on to help the child discover her natural talents and abilities. Maybe the youngster is musically inclined or socially adept. Maybe she's a natural at sports, mechanics, or art. Parents can make a big fuss in these more-promising areas so that the child identifies more with her strengths than her weaknesses. In this way, the child will never feel that she is a "loser" with no future.
In order to celebrate a child's strong points, parents must break free of preconceived notions of success. There are so many ways to be a successful adult that we have to look beyond narrow models and frameworks for our children. Reading books about successful people can really help, because often the most successful people seemed the least likely to succeed by conventional measures. Start with Corcoran's book. It will help you to look at your child with new eyes!
© Copyright 2010 by Sarah Chana Radcliffe, MEd, CPsych, therapist in North York, Ontario. All Rights Reserved. Permission to publish granted to GoodTherapy.org.
The preceding article was solely written by the author named above. Any views and opinions expressed are not necessarily shared by GoodTherapy.org. Questions or concerns about the preceding article can be directed to the author or posted as a comment below.