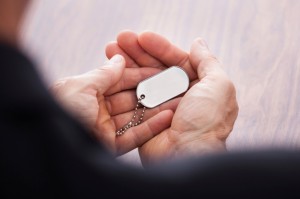 Between 11% and 20% of veterans who served in Iraq and Afghanistan suffer from posttraumatic stress (PTSD). Treating the disease can prove challenging, though. Nineteen percent of veterans suffer a traumatic brain injury, and the symptoms of a mild traumatic brain injury (MTBI) can be difficult to distinguish from the symptoms of PTSD. In fact, 44% of veterans with MTBI also meet the criteria for a PTSD diagnosis, which complicates treatment. A promising new study, though, has shown that brain imaging can help doctors distinguish the two conditions. Perhaps even more exciting is the fact that this study has shown that it's possible to test for PTSD.
PET/CT Scans in Veterans with PTSD
The pituitary gland, located at the base of the skull, works with the adrenal glands and hypothalamus to help regulate mood, energy, and stress responses. Researchers theorized that damage to this region of the brain—the sort of damage that might occur with a traumatic brain injury—could cause difficulty with emotions and stress regulation, leading to symptoms similar to PTSD.
To test their hypothesis, researchers evaluated 159 veterans. They combined two types of brain scans—positron emission tomography (PET) and computed tomography (CT) to measure how the body metabolizes a radioactive chemical called 18F-fluorodeoxyglucose (FDG). They found that FDG uptake in the hypothalamus was lower among veterans with MTBI compared to veterans without any brain injuries. Among veterans with MTBI and PTSD, FDG uptake in the pituitary gland was significantly higher than in the MTBI-only group.
Increased FDG uptake in the pituitary gland is consistent with a condition called hypopituitarism, a condition some veterans with a traumatic brain injury develop. Some symptoms of this disorder may mimic PTSD. But when veterans with hypopituitarism are treated for PTSD, they're unlikely to get better. The study's results are consistent with this theory.
A Test for PTSD?
The study's authors suggest that some cases of PTSD could actually be the result of a traumatic brain injury that leads to hypopituitarism. Among these veterans, screening for hormonal imbalances could help doctors differentiate between symptoms of MTBI, PTSD, and hypopituitarism, leading to better treatment options for veterans. Diagnosing mental health conditions can be challenging, particularly since there aren't physical tests for conditions such as PTSD. But these results show that, at least in some cases, physical differences can help differentiate PTSD from other conditions.
References:
How common is PTSD? (n.d.). Retrieved from http://www.ptsd.va.gov/public/PTSD-overview/basics/how-common-is-ptsd.asp
Hypopituitarism. (n.d.). Retrieved from http://www.mayoclinic.org/diseases-conditions/hypopituitarism/basics/symptoms/con-20019292
PET/CT shows pituitary abnormalities in veterans with PTSD. (2014, December 1). Retrieved from http://www.sciencenewsline.com/articles/2014120109390005.html
Veterans statistics: PTSD, depression, TBI, suicide. (n.d.). Retrieved from http://www.veteransandptsd.com/PTSD-statistics.html
© Copyright 2014 GoodTherapy.org. All rights reserved.
The preceding article was solely written by the author named above. Any views and opinions expressed are not necessarily shared by GoodTherapy.org. Questions or concerns about the preceding article can be directed to the author or posted as a comment below.