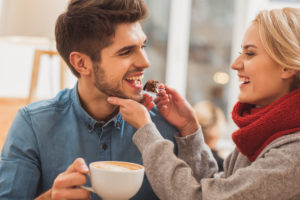 Boredom with life is a common complaint in therapy. That shiny new car is often less interesting a year later. Conversations with a once-exciting partner can seem humdrum after years of discussing the same topic. Some people turn to addiction and compulsive behaviors to recapture a sense of excitement. Others become depressed because life seems to have lost its thrill. Pleasure is an important motivator at every age, and it is closely linked to the thrill of novelty.
A new study in Personality and Social Psychology Bulletin suggests a simple strategy for regaining a sense of novelty in the mundane. The study says small shifts in the way a person does things—eating popcorn with chopsticks, for example—can help boring old activities seem new and exciting again.
How to Make the Old Feel New Again
The study included a series of trials that assessed the effects of novel approaches to old experiences.
Water trial: This experiment involved 300 participants. Researchers asked recruits to devise interesting new ways to drink water—such as lapping it up like a cat or drinking it out of an envelope. People who drank water in unusual ways said they enjoyed it more.
Popcorn trial: Researchers invited 68 people to take part in a study that they thought was about helping people eat more slowly. Participants ate 10 kernels of popcorn, one kernel at a time. One group used their hands to eat. The other ate the popcorn using chopsticks.
Participants then rated the experience on several measures, including how flavorful the popcorn tasted and how much fun it was to eat. People who used chopsticks enjoyed the experience more.
Researchers then had both groups eat 10 more kernels. After the second round, both groups reported similar levels of enjoyment. These results show the chopstick users' first ratings were due to the novelty of the experience, not because the chopsticks made popcorn taste better. It also suggests novelty is most potent during first-time experiences.
Video trials: Two other trials asked participants to watch a minute-long video three times. One trial took place in a lab. The second trial had participants watch the video online.
Participants were divided into three groups. Each group watched the same video of a motorcycle ride filmed by the cycle driver. The first two showings were the same for each group. But on the third showing, the groups watched the video in different ways:
One group of participants watched the video while making goggles with their hands. They were instructed to bob their heads as the motorcyclist moved.
Another group watched the video playing upside down.
A third group did nothing different.
The group that watched the video the same way as before had lost interest by the third viewing. The group who watched the video upside down also had low enjoyment. Researchers suggest watching the video upside down disrupted their viewing experience.
The hand-goggle group reported the highest enjoyment. The study's authors speculate this may be because the goggles encouraged people to pay closer attention to the video. Their increased focus made the video seem newer and more enjoyable.
The results of the video trials suggest novelty alone isn't enough to increase enjoyment. Novelty boosts one's pleasure when it helps someone immerse themselves in the activity.
Injecting Novelty Into Daily Life
Taken together, the study results suggest novelty—even of an absurd variety—might help old experiences feel different. People who want to inject a little excitement into their daily lives can heed this advice by trying new versions of old experiences. For example, a jogger could boost their motivation by running in a different park. A couple could spice up date night by eating dinner at a lights-out restaurant.
A skilled therapist can offer personalized suggestions for revitalizing one's routine. Therapy can help people rediscover a sense of enthusiasm and adventure. Even small changes can make a big difference.
References:
O'Brien, E. & Smith, R. W. (2018). Unconventional consumption methods and enjoying things consumed: Recapturing the "first-time" experience. Personality and Social Psychology Bulletin. Retrieved from http://journals.sagepub.com/doi/abs/10.1177/0146167218779823?journalCode=pspc
Why popcorn tastes better when you eat it with chopsticks. (2018, June 26). ScienceDaily. Retrieved from https://www.sciencedaily.com/releases/2018/06/180626113427.htm
© Copyright 2018 GoodTherapy.org. All rights reserved.
The preceding article was solely written by the author named above. Any views and opinions expressed are not necessarily shared by GoodTherapy.org. Questions or concerns about the preceding article can be directed to the author or posted as a comment below.