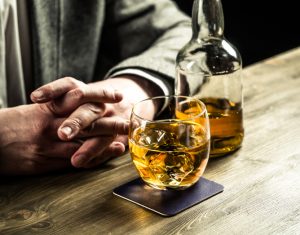 People with anxiety may drink more heavily and have more alcohol cravings than those with high levels of stress, according to a study published in the journal Alcoholism: Clinical and Experimental Research. The study followed people with a history of alcohol abuse to weigh the effects of stress and anxiety on alcohol-related feelings and behaviors.
Alcohol is the fourth leading preventable cause of death in the United States, claiming 88,000 lives annually, according to the National Institute on Alcohol Abuse and Alcoholism. More than 15 million adults were addicted to alcohol in 2015, according to the 2015 National Survey on Drug Use and Health. Just 1.3 million people received treatment for alcohol use at a specialized facility in 2015, suggesting most people with an addiction to alcohol do not receive treatment.
Anxiety as a Precursor to Alcoholism?
The study followed 87 people—17 women and 70 men—who met diagnostic criteria for an addiction to alcohol. Researchers measured participants' anxiety levels, perceived stress, and their sensitivity to anxiety. Anxiety sensitivity is the fear of sensations associated with anxiety, so people with higher anxiety sensitivity are often more likely to develop anxiety.
cravings
twice daily. On the fourth day, participants engaged in a math and public speaking test. Before and after the test, researchers asked participants about alcohol cravings. They also measured levels of
cortisol
, a
hormone
associated with higher levels of stress.
Participants who had higher levels of anxiety sensitivity were more likely to drink heavily and to score higher on clinical measures of alcohol addiction. Those with high levels of anxiety drank less, but scored higher on other measures of alcoholism. Both anxiety and anxiety sensitivity, but not stress, were correlated with more alcohol cravings during the study. High anxiety also correlated with higher cortisol levels during early withdrawal.
This suggests anxiety is closely linked to alcohol cravings and points to a role for cortisol in alcohol cravings.
Differentiating Between Stress, Anxiety, and Anxiety Sensitivity
The study's authors point out that research on alcohol use often uses terms related to anxiety and stress interchangeably. Because the findings show anxiety, anxiety sensitivity, and stress all have different effects on alcohol cravings, the researchers emphasize the importance of differentiating between these terms.
References:
Alcohol facts and statistics. (2017, February). Retrieved from https://www.niaaa.nih.gov/alcohol-health/overview-alcohol-consumption/alcohol-facts-and-statistics
Mccaul, M. E., Hutton, H. E., Stephens, M. A., Xu, X., & Wand, G. S. (2017). Anxiety, anxiety sensitivity, and perceived stress as predictors of recent drinking, alcohol craving, and social stress response in heavy drinkers. Alcoholism: Clinical and Experimental Research. doi:10.1111/acer.13350
© Copyright 2017 GoodTherapy.org. All rights reserved.
The preceding article was solely written by the author named above. Any views and opinions expressed are not necessarily shared by GoodTherapy.org. Questions or concerns about the preceding article can be directed to the author or posted as a comment below.