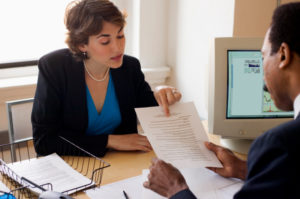 Asking for a raise can be a daunting endeavor. Many employees refrain from inquiring about the possibility of increased compensation, even if they feel it is merited. According to U.S. News and World Report, up to 60% of workers will never ask for a raise. Of those, 47% expressed feeling uncomfortable asking or feared it would come across as pushy.
For their part, with the economy in its rebounding-but-not-quite-rebounded state, many employers are neglecting yearly salary increases that might have been standard in the past. If you've been working hard and haven't seen an increase in earnings, it might serve you well to face your fear and ask for the raise you know you deserve.
Here, we offer seven pieces of advice to consider before asking for a raise:
1. Know Your Value
Before you even consider asking for a raise, you'll need to research the market and determine your value. Find out what the average salary is for a person in your field with your experience. If you don't know what your work is worth, then you won't know what kind of raise to expect.
You can use websites such as Salary.com to determine average salary rates or try Glassdoor.com, a website where employees post their earnings as well as anonymous company reviews.
Be resourceful. Check with recruiters. Research job advertisements. Do some networking and ask trusted others in your field about their salaries, if they're willing to share.
2. Present Solid Evidence
When you approach your boss, you'll want to come prepared and be ready to present evidence in your favor. It can be helpful to keep a written list to ensure that you don't forget anything important. Think of asking for a raise as you would closing a sale. You need to be persuasive and convince your boss that your desired raise is warranted.
If you keep a list, include any major accomplishments you have made in the past year at your job, any additional duties you have taken on, and point out any other "gold stars" you may have earned at work recently. If you have quantifiable statistics, be sure to present those. As they say, the numbers don't lie.
3. Timing Is Everything
Many people assume that the best time to ask for a raise is during their annual review, but some experts recommend asking a few months ahead of time. In many cases, your manager has already determined the budget and negotiated any salary raise long before he or she meets with you for your review. To make sure your annual raise has been factored into that budget, consider bringing it up a few months in advance rather than waiting for the review itself.
This should go without saying, but be considerate of the time and place when asking for a raise. It is best to wait until you have one-on-one time with your boss rather than bringing it up in the middle of a team meeting.
4. Be Confident
Present your case for a raise confidently and unemotionally. Be prepared to showcase your accomplishments to your supervisor in an assertive manner. Be straightforward.
Remember to think of it as if you were selling something—in this case yourself. Would you want to buy something from a salesperson who is unsure about his or her product?
You want to be assertive and confident when you ask for a salary increase, but don't come across as aggressive.
5. Ask Mindfully
You want to be assertive and confident when you ask for a salary increase, but don't come across as aggressive. It's important to be mindful of your tone and choice of words when you ask for a raise. In most cases, this is a negotiation. Try your best to control your emotions and stay calm, cool, and collected.
In addition to being mindful of how you ask, it is important to be mindful of your employer's ability to grant you a raise. If your employer is experiencing a decrease in sales or just went through a round of layoffs, it might not be the best time to ask for a raise.
6. Avoid Ultimatums and Guilt Trips
Practice a little extra consideration if you choose to bring up loyalty. While it may be tempting to do this, you'll want to be careful. Don't go straight for an ultimatum and threaten to quit, as you could be putting your job at risk.
Be thoughtful when addressing the possibility of accepting a position at another company. Do so in a manner that is subtle rather than threatening. You might consider telling your employer how much you love the job, but you feel you should be compensated better for your quality work.
Also, avoid guilt-tripping your boss. While he or she may be sympathetic that your rent just went up, it isn't relevant to your work performance and should not be used as any kind of argument for a pay increase. Rather than providing personal reasons, focus on showcasing your value to the company.
7. Prepare for Possible Rejection
When asking for a raise, it's best to remain rational and objective and not bring your emotions into the conversation. If you aren't prepared to hear "no," then you might end up saying or doing something in the heat of the moment that you could wind up regretting.
Accept the fact you might be rejected and have a plan of action in the event that it happens. It may be possible to negotiate a reasonable bonus structure instead, or perhaps negotiate a smaller raise. You might ask your boss what you can do to increase the possibility of a future raise.
There Is Help If Workplace Issues Are Affecting Your Life
Asking for a raise can be nerve-racking for even the most confident employee. But if you're experiencing anxiety stemming from concerns about your pay or other workplace issues that interfere with your ability to carry out your duties, consider finding a qualified therapist or counselor experienced in dealing with workplace problems.
We spend nearly a third of our adult lives at work, which inevitably spills over into our personal lives. If you need help sorting through feelings, experiences, or even trauma as a result of your work environment, there are people in or near your community trained to help with those issues.
References:
Morgan, H. (2015, January 15). How to Ask for A Raise—and Actually Get It. S. News. Retrieved from http://money.usnews.com/money/blogs/outside-voices-careers/2015/01/14/how-to-ask-for-a-raise-and-actually-get-it
Triffin, M. (2014, May 7). How to Ask for A Raise—and Get it. Retrieved from: http://www.forbes.com/sites/learnvest/2014/05/07/how-to-ask-for-a-raise-and-get-it/
© Copyright 2015 GoodTherapy.org. All rights reserved. Permission to publish granted by GoodTherapy.org Staff
The preceding article was solely written by the author named above. Any views and opinions expressed are not necessarily shared by GoodTherapy.org. Questions or concerns about the preceding article can be directed to the author or posted as a comment below.